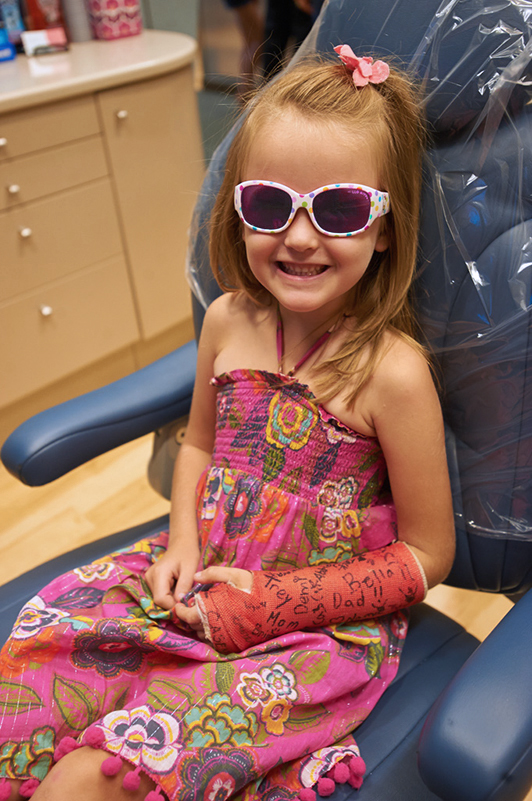 Dr. Stevens consistently and continually makes room in her schedule to focus on children's dental care in order to grow healthy smiles. Delivering quality care for children who don't have access to it in the Siouxland community is always at the forefront of her practice. Her belief in proactive oral care for children is a big reason why Dr. Stevens and Sunnybrook Dental Care is a proud participant of  the Annual American Dental Academy's Give Kids A Smile event.
Visiting Siouxland schools, educating children on hygiene techniques and continually upgrading Sunnybrook and the team with the latest tools and techniques are just some of the ways Dr. Steven's ensures the growth of healthy smiles. Dr. Steven's recognizes that parents play a big role in preventing childhood dental problems. Here are just a few daily healthy habits to prevent your kids from getting cavities:
• Regular Brushing
• Introduce flossing
• Add fluoride to the routine
• Healthy diet
Parents, for more easy-to-implement prevention tips from Dr. Steven's, check out her recent blog post. It will take you from prenatal vitamins, to answering your questions about the right toothbrush for your child, as well as flossing and fluoride.
Dental Tips for Parents
Most parents understand the importance of dental health and the importance of passing on healthy habits to their kids…and the sooner, the better.
Did you know good dental health actually begins before your baby is even born? Prenatal vitamins and overall healthy habits contribute to healthy baby teeth. By actively preventing dental disease and decay with daily dental care basics, professional dental cleanings, and regular exams your children can maintain a healthy, beautiful smile.
Tip 1: Your child's first visit to the dentist should happen before his first birthday. The general rule is six months after eruption (appearance of a tooth above the gum line) of the first tooth. Taking your child to the dentist at a young age is the best way to prevent problems and ensure future dental and cosmetic success.
Tip 2: Parent-assisted 'at home' oral health routines are essential to the success of your child's dental habits. Most importantly, preventative dentistry results in less expensive dental care, so you can focus your dollars on having fun with your kids.
Tip 3: Be sure to ask the dentist about the procedures of the first appointment so there are no surprises. Plan a course of action for either the reaction your child may exhibit – cooperative or uncooperative.
Tip 4: Children's' appointments should always be scheduled earlier in the day, when your child is most alert, and less tired. For children under 36 months, the parent may need to sit in the dental chair and hold the child during the examination.
Tip 5: Children can begin using an antiseptic and fluoride rinse as directed, usually around six years of age. However, always ask your dentist or doctor if a fluoride rinse is specifically right for your child once they've had exams.